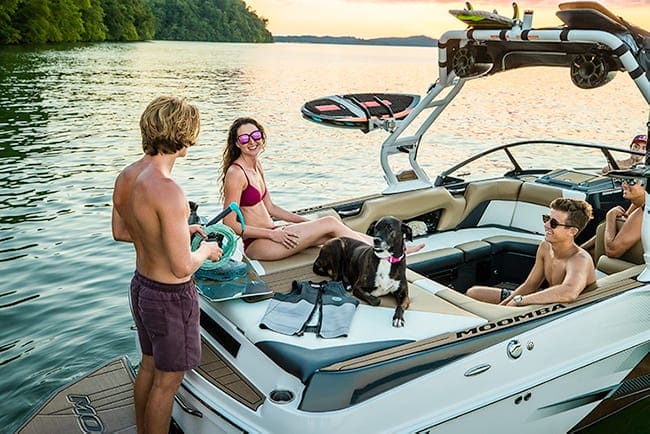 Your time on the water is priceless, this is why it is important that your boat is always running to the best of its ability. The last thing that you want while you're on the water is to face a mechanical issue. While we aren't able to guarantee the unknown, we will definitely do our best to provide you with that extra peace of mind. When you choose to service your boat with SouthTown, you can rest assured that you are working with the top marine service center in Raleigh. Of course, we know everybody claims they are the best, but our 98.6% customer satisfaction rating is solid proof that we go above and beyond to take care of our customers. Not only do we do our best to put our customer's needs first, we also do our best to get the job done right the first time.
To ensure the longevity of your boat's powertrain, it is critical to change fluids periodically. Our team is able to handle all of the required fluid changes for your boat.
Whether your boat has an odd sound from the engine, or just doesn't have as much power as it used to, our team can diagnose any issues your engine may have.
When it comes to impellers, we are equipped to change everything from ballast impellers to engine impellers. This helps ensure your boat can run at peak performance.
Nothing is more satisfying than getting into a clean boat. Our team is able to clean and protect your boat on both the inside and outside.
Looking to bring new life to your boat at night, or maybe just get your required lights fixed, our team can handle everything from custom installs to repairs.
When you're on the water music is often a big part of the experience. We can help take your music experience to the next level with custom or upgraded speaker systems.
Many older boats may not have been factory equipped with a tower, but there is no need to worry. We can add an aftermarket tower to most ski, wake, and runabout boats.
Whether you can't transport your boat, have a busy schedule, or just want to keep it simple. We will come to you and take care of all general maintenance on site.
Schedule Your Service Today
At SouthTown Watersports, we strive to provide you with the simplest and most painless service experience possible. Whether you have been with us from the start, or just want to know what we have to offer, we will treat you and your boat with the respect you deserve. It doesn't matter what brand boat you have, we service far more than just Supra and Moomba boats. Our team of trained marine technicians are equipped to handle all of your boating needs. Ready to schedule your next service? You can schedule your service by using our service app for IOS/Android, or using one of the two buttons below.

*We are conveniently located in Raleigh, North Carolina and service the surrounding lakes and areas such as Durham, Cary, Chapel Hill, Wake Forest, Falls Lake, Belews Creek, Badin Lake, Lake Tillery, High Rock Lake, and more.

Frequently Asked Questions